I haven't had much time to paint since Crystal Brush, so no new pictures from me. I'm trying to find time to finish up Otho so I can submit an entry into Massive Voodoo's Bananalicious contest. If you haven't checked that out, it's worth a look. Most of the entries are groups of figures (3-5) and only one needs to be 'new.' Anyway, since I don't have any of my own stuff to show, I thought I'd post about two new figures on the market that I think are really cool.
First up is Rujo, a 75mm scale centaur from
Tiny Leads
. They're a pretty new company, just started selling stuff a few months ago, so you may not of heard about them. This is a great looking piece and one that has me very tempted. It comes with an alternate head (I believe helmeted) and an alternative hand.
The second figure is another collaboration between Terrible Kids Stuff, Mumi, and Brom to create a figure based on Brom's book/art, The Child Thief (a dark retelling of the peter pan story). About a year ago they did one based on Jack from The Plucker and it sold out very quickly. This is another limited edition and only 200 will be available. I believe it will be available for preorder starting April 18th, so if you're interested act quickly!
Okay, so what's next for me? Well, I'm not sure I'm going to be able to get much painting done for the next few weeks. But hopefully in May I can make some progress on some big projects. As I mentioned in the previous post, I will be starting a 75mm steampunk figure (Jessica Thunderhawk). I also just received a fantastic bust from Young Miniatures that I'm hoping to begin as well. It's been about 2 and a half years so I last worked on a bust, so I'm curious to see how my skills have improved on these larger pieces (roughly 150mm scale). Young Mini's busts were two of my earliest historical projects, so the packaging, the smell, it all brings back some fond memories. They make a lot of fantastic stuff but this one in particular caught my eye. It's a Napoleonic subject, but the sculpt is really dynamic with a ton of movement (not easy for just a bust!).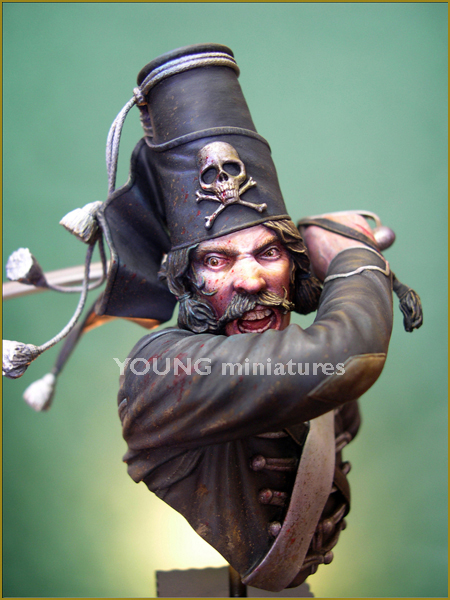 The kit is resin, like all their busts, and there are some large chunks left over from the casting reservoirs that need to be removed. As usual, they're all in good places (flat areas between parts) so that shouldn't be too bad to deal with. The seam lines are almost invisible so that should be quick. The parts will need to be washed to remove the mold release. The sword has a slight bend in it, so that will need to be straightened. Interestingly enough, the tassels on his hat come straight, so they will have to be bent into shape. Again, they are resin so I'm left deciding if I want to heat and bend them, or just replace them with metal rod and bend that instead. I've got some that looks to be the same diameter, so that may be easier to work with.